Subtitle and
captions editor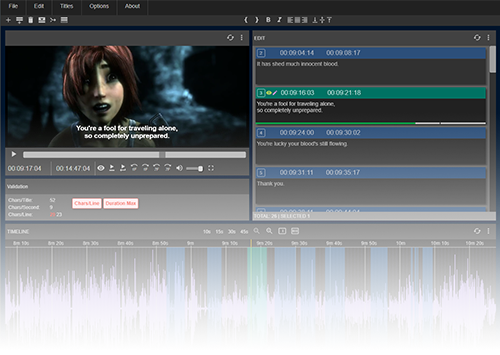 About the subtitle editor
subtitle horse SHIRE is a browser-based captions editor for subtitling videos online. Features include realtime validation, an interactive timeline, shortcuts and many more. subtitle horse is highly customisable: Subtitles can be created by beginners as well as professionals.
Get more information on the subtitle editor SHIRE:
subtitle PONY - mobile subtitle and captions editor
Subtitle PONY is a captions editor optimized for mobile devices. You can create subtitles and captions using only one button and the voice-to-text engine of your smart phone or tablet. Of course, you can also type the text on your mobile device, use an external keyboard or use subtitle PONY from desktop computers. Currently PONY is not available for iPhone and iPad.
Get more information on the subtitle editor PONY: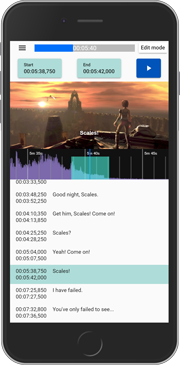 Free version - create captions without registration
With the free version of subtitle horse you can add subtitles and captions to your video. You can export your subtitles as a text file in the supported formats (SRT, TimedText, WebVTT,...). The video can either be online, on your hard disc or on a platform like YouTube, Dropbox and others. Load the subtitle editor.
Add subtitles
to your videos
Edit your captions in a later session
Translate subtitles
into another language
Save in different formats
(SRT, TimedText, WebVTT,...)
Subtitle videos from different sources e.g. URL, YouTube or disc
Features of the subtitle editor
Zoomable timeline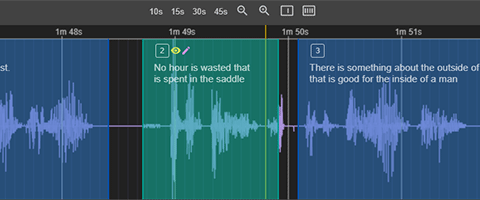 The timeline can be zoomed steplessly. Time values of subtitles can be adjusted by dragging. A right click menu for additional functions is available. The behaviour and the appearance of the timeline can be configured.
Subtitle validation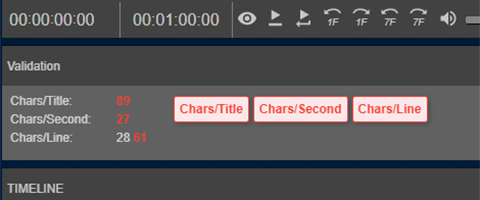 Subtitles are validated in real time. Validation fields include: Characters per second/line/title, duration min/max etc.
High editor configurability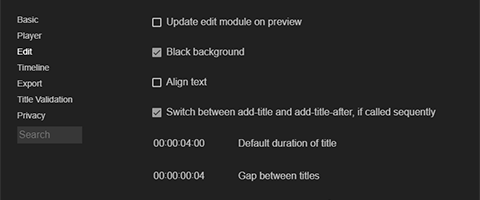 You can adjust the subtitle editor to your workflow: Over 50 grouped preference values can be set and searched for in the preference window.
Individual shortcuts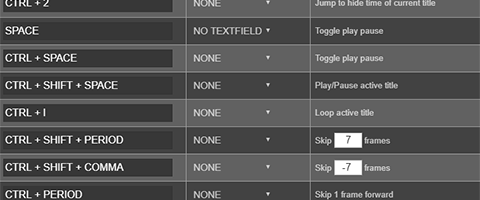 Save time with using shortcuts: create and edit subtitles faster. Shortcuts can be added, changed and searched for.
And many more features
Frame accuracy
All time based functionalities of subtitle horse are frame accurate.
Validation bar
Visual indication of allowed characters in a subtitle.
Translating subtitles
Turn your captions into read-only captions with one click to translate them.
Subtitle fields
Different text fields for a subtitle (annotation, read-only etc.) can be copied, swapped and merged.
History, undo, redo
Last states of current or former sessions can be restored.
Text editing
Split or merge subtitles. Shift words between subtitles and lines. Many other text functions.
Video playback options
Loop subtitles, play from start time, different playback speeds etc.
Find, replace in subtitles
Find/replace subtitle by subtitle or in all subtitles. Case sensitive and whole words search.
Advanced subtitles import
Import, add or merge subtitles to existing ones, including optional parameters.
Export subtitles
Export subtitles in different formats with optional parameters.
Offset subtitles
Offset subtitles based on current media time or individual time values.
Quick guidance
Next to the
editor guide
, the captions editor offers quick access to help via help windows and tooltips.
The subtitle editor from or within your CMS
See the products page to use the browser-based captions and subtitle editor from or within your CMS to create and add captions for your company`s online videos.